Voir la version PDF de cette publication :

Results of high dose vancomycin loaded spacers in treatment of infected massive prostheses
G.Delépine, F.Delépine, Z.Lankri, S.Alkahallaf,
Nicole Delépine
---
Results of high dose vancomycin loaded spacers in treatment of infected massive prosthese
Introduction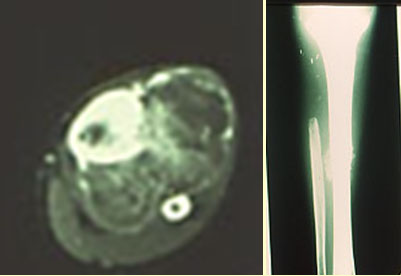 Huge Os treated by resection ,chemotherapy and Radiotherapy
With the dramatic improvement of conservative surgery in patients with bone sarcoma infection becomes the most devastating complication, leading frequently to amputation.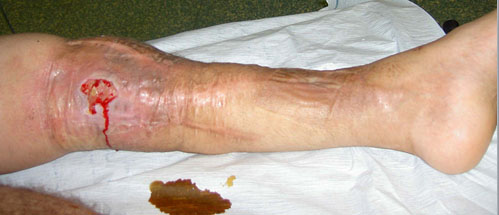 15 years later deep infection
The aim of this monocentric study
-is to precise the influence of spacer loaded with high doses of Vancomycin on late results.
-High dose Vancomycin means at least 4 grams (4grams vancomycine per batch of 40 grams of methacrylate)
Patients
-From 1984 to 2007, we operated more than 600 patients with bone sarcoma.
-Age : 4,5 to 82 years (mean 25 y)
-Histology : osteosarcoma (304), Ewing (142), chondrosarcomas (148), fibrosarcomas or MFH (23), giant cell tumours in others.
- Out 484 cases, patients received chemotherapy, and radiotherapy in 50 .
Résults
-The mean follow-up from tumour removal is 15 years.57 p suffered of deep infection of the material used to reconstruct the skeletal defect.
-We saw also 3 p for recurrence of deep infection initially treated elsewhere. Altogether, we treated 60 patients for deep infections.
Treatment of infection: amputation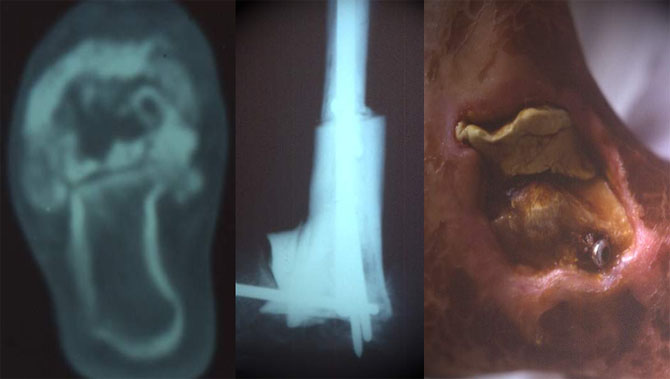 Life threatening septicemia or inability to obtain a muscle coverage compelled to primarly amputate 4 patients.
Radioinduced osteosarcoma of astragalus resection.. Skin necrosis.. Failure of muscular flap. Amputation.
Conservative treatment
-26 p had debridment and cleaning of the prosthesis and long adapted antibiotherapy as first treatment.
-When ineffective (23/26), a removal of the prosthesis was performed with immediate replacing the new prosthesis in 19 cases.
Infection are often linked with insufficient coverage

All these patients benefited of muscular flap
53 patients with a two stages protocol including spacers
-When infection recurred (16/19) and in all other patients the treatment included a two stages protocol with interposition of a spacer with antibiotic loaded cement during 4 to 12 weeks .
-The new prosthesis was placed in a later time, when infection, cutaneous and muscular problems were solved.
Doses of vancomycin
-1984-1990 the spacer was made with gentamycin containing cement (palacos)
-1990-2004 spacer added mixed with conventional doses of antibiotics (vanco, rifadin, tobra) adapted to the germ resitance.
-From 2004/6 we used high doses of vancomycin (4 g per batch of 40 g) with an average total dose of 11g of vancomycin per spacer.
Résults
At the last control, 15 were amputated, following a mean of 6 ineffective procedures
45 p. benefited from conservation surgery but a new prosthesis could be inserted only in 43, following a mean of 3.2 surgical procedures
Analysis
Shows the bad prognostic value of:
-initial radiotherapy,
-distal locations,
-insufficient muscular coverage
the better efficacy of spacers loaded with high dose antibiotics
Pejorative vale of irradiation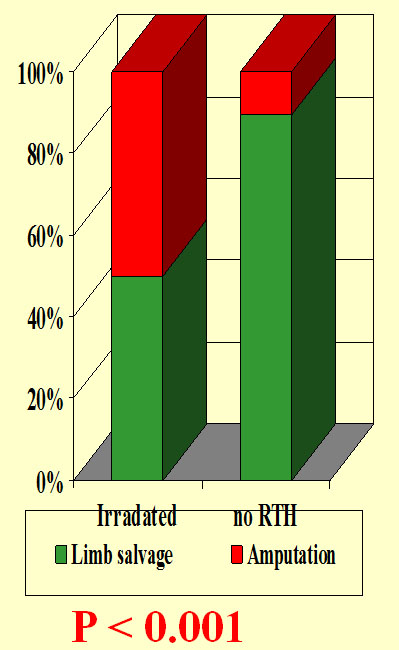 statistical analysis show the higher risk of amputation for Irradiated Patients.
11 amputations / 22 irradiated patients
versus 4 of 38 non irradiated patients
Radiotherapy increases the risk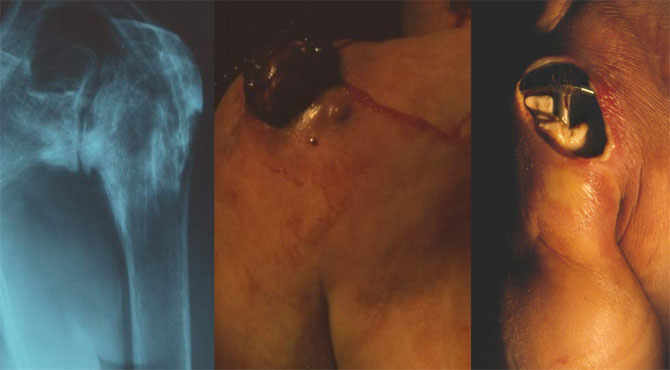 Radioinduced osteosarcoma of scapula treated by resection and prosthesis.Skin necrosis 3 weeks after.
Prognostic value of Vancomycine to avoid amputation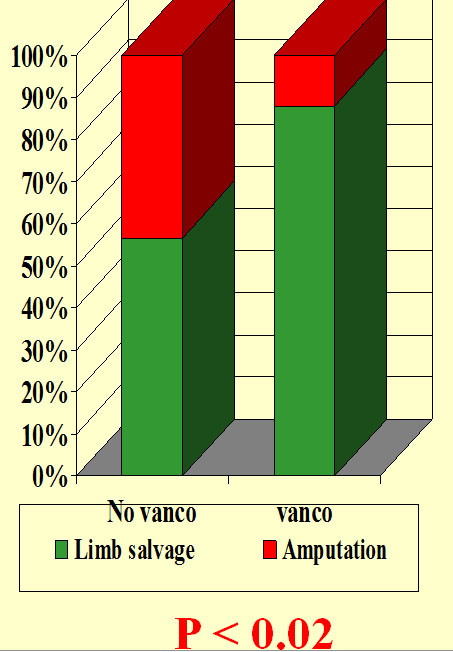 -10 amputations for 23 spacers without Vancomycine
-versus 5 of 37 patients with Vancomycine).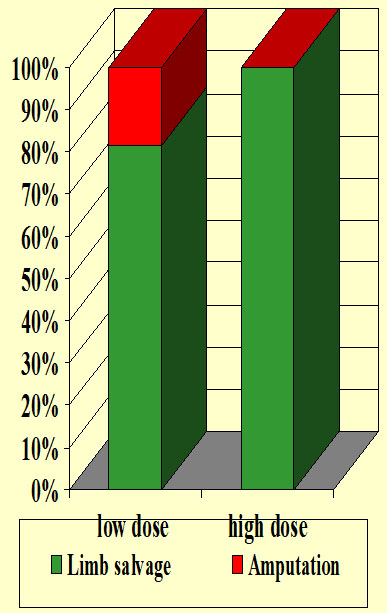 Up to date, none of the high dose antibiotic loaded spacers was followed by amputation.
High dose vanco can cure infection with various germs
-All infections with staphylococcus aureus have been cured.(even « resistant » staph).
-But also most of infection with other bacterie supposed to be vancomycin resistant on classical antibiograms
-Usual antibiogram do not study the high level of vanco observed around high dose spacers
Conclusion
Infection of massive prostheses is the most serious orthopaedic complication of limb salvage.
Treatment must be preventive, avoiding any radiotherapy.Good prognostic factors are early removal of the prosthesis, effective antibiotherapy, improvement of the muscular coverage, and use of spacers with high dose vancomycin.
---