Voir la version PDF de cette publication :

Long term results after total femoral resection for sarcoma
Gérard Delepine, Fabrice Delepine, H. Cornille,
Nicole Delepine
---
Long term results after total femoral resection for sarcoma
Objectives
With effective chemotherapy the gold standard for limb salvage is wide resection. Consecutively primary total femur resection is nowadays rarely indicated. Nevertheless with long follow up some secondary indication appeared and justify this review of our cases.
Patients
Between 1981 and 2011 we performed 276 femoral resection for bone sarcoma among them 14 patients had total femur resection.
Median age of patient is 14.5 (79-4.9).
Histology of tumour are osteosarcoma in 8, Ewing's in 4 (2 initially metastatic) and dedifferentiated chondrosarcoma in 2.
The indication for total femur resection
very huge tumour in 3,
Intratumoral nailing in 3,
persistent infection in 1,
local recurrence in 1,
and mechanical failure in 6.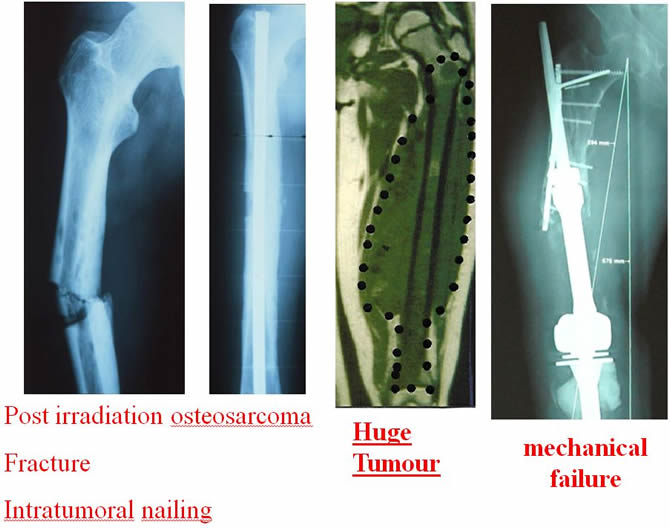 Intra tumoral nailing
Fracture 8 years after radiotherapy for Ewing's sarcoma.
Nailing without biopsy.
Osteosarcoma.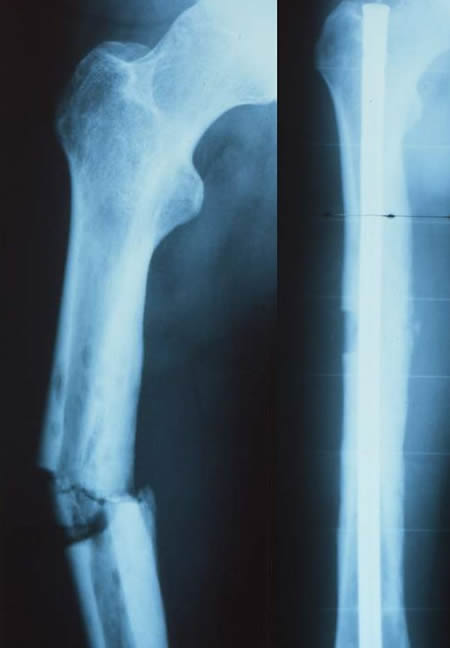 very huge tumours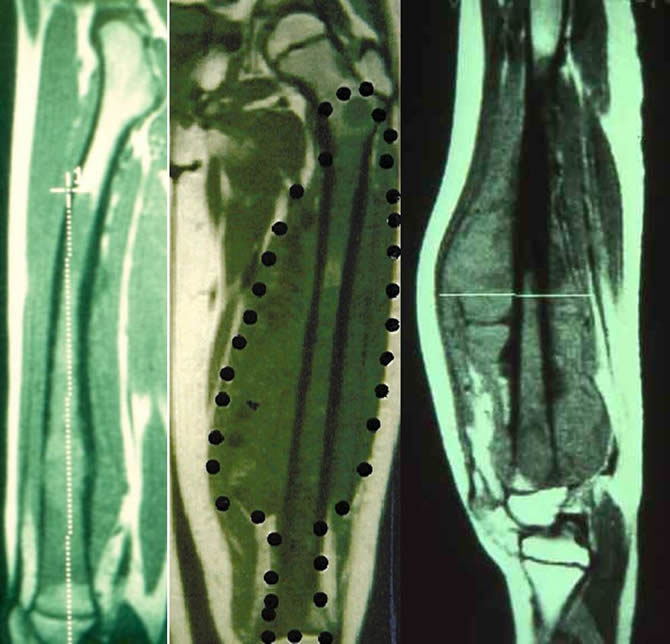 Mechanical failure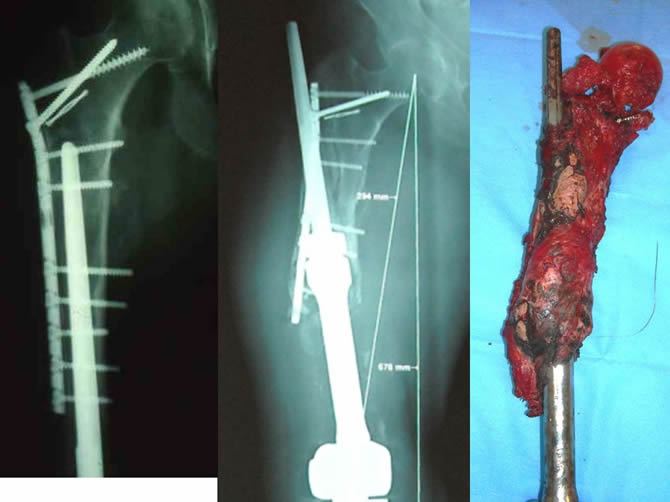 The first patient was reconstructed with a monobloc custom made prosthesis.

Other patients benefited of composite implant
- Including 2 prostheses :
- One total hip with a long stem cemented into
- One knee prosthesis with long hollow body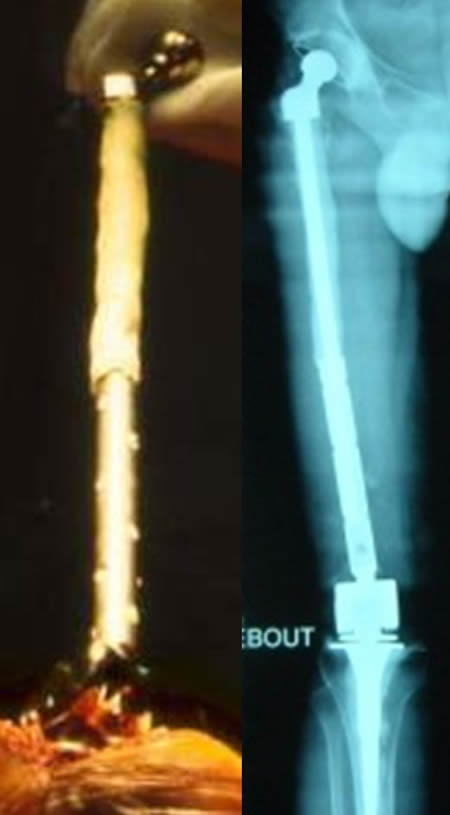 Composite implant with lengthening component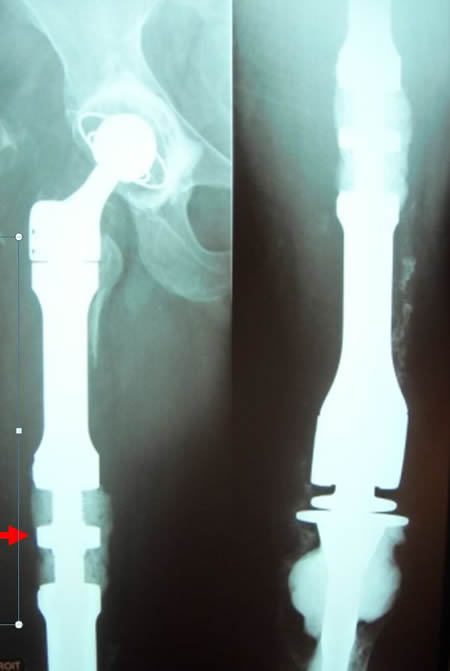 Composite implant with :
- allograft
and
- lengthening component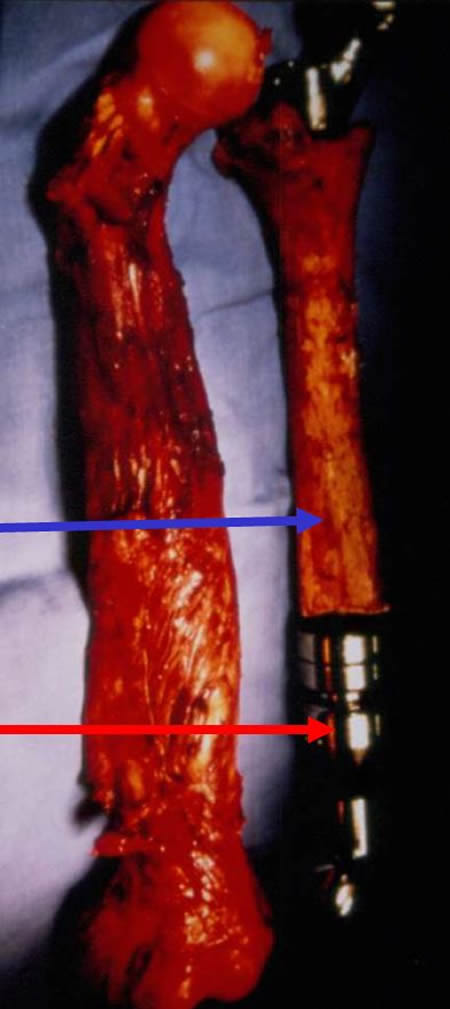 Results
- 4 patients died of disease after 6 to 18 months. The 10 other are disease free survivors with a median follow up of 15 years. 8/10 survivors have a still their limb and their prostheses.
Complications included severe ischemia in 1 patient (the monobloc prosthesis was 3 centimeters too long) and, hip dislocation in 2.
Deep infection
Deep infection, secondary or late appeared in 6 patients (50% of cases!), due to the bad coverage of the prosthesis or reoperation for lengthening.
Deep infection is the most frequent and most severe complication. It was the reason for secondary amputation in 2.
Orthopaedic result
- Stiffness of the knee (Average flexion 45°),
- Leg discrepancy and
- frequent necessity of crushes for long walking (4/8)
- explain that the functional result of the 8 patients with prostheses is never excellent, but only good (5) or fair (3).
Conclusion
Total femur reconstruction give much better function than hip desarticulation even if knee stiffness is usual.

Composite reconstruction is more flexible than custom made monobloc prosthesis and no loosening between the 2 implants appeared even with very long follow up.

The adjunction of high dose Vancomycine in cement decreases the infectious risk and seems the best preventive measure of the most severe complication of this salvage procedure.
---